GETICA OOH is automating its accounting financial department to manage faster and more efficiently the cash-flow of the company
One of the priorities of a company's management is to continually check the state of invoices given to customers, ensuring that they are collected within the dates stipulated in the agreements reached with partners, in order to forecast the company's capacity to pay its suppliers' debts.
Many businesses struggle to manage their accounting financial flow and require real-time data in order to avert a negative cash-flow (it occurs when the company has higher payments than cash inflows).
"We wanted to automate the manual procedures to free up qualified staff's time so they could focus on higher-value activities and better support the interaction with the rest of the company's divisions. All of information was sent to me, even much more than needed. We've obtained new talents for solving issues in a systematic manner, as well as the capacity to manage and forecast outcomes, in addition to control and predictability of identifying other potential opportunities for automation." – Eliza Geodoiu, Chief Financial Officer – Getica OOH.
Solution
ENCORSA HQ SRL has created a software application for GETICA OOH's financial accounting department, an integrated system that launches a primary dashboard that synthesizes data from many modules, including the client module, accounting note creation module, and payment module. Each module is made up of procedures, actions, and reports that are organized by activity category.
Fig 1. Application Dashboard
Results
Activity procedure – development of a complete digital flow for invoice management, on the BackOffice platform (WEBCON BPS), interconnected with RPA type processes (UIPATH);
Visibility – Establishing a real image of the company's financial situation at any time;
Predictability – Establishing the company's debt settlement capacity;
Continuous performance – Reports with analyses regarding the entrances and exits of the company, thus measuring can be taken if the outputs are higher than the inputs;
Control – Budgeting for future expenditures;
Operational simplification – controlling the status of bills and accompanying accounting notes, as well as alerts issued to overdue clients, from a single platform;
Specific reporting – creation of KPI records and reports that may be consulted at any moment by the company's management.
About the company
Outdoor advertising is a viable alternative to Internet marketing. Because of their scale and contrast with the actual world, out-of-home ads are impossible to ignore and may have a big influence on customers.
In addition, when OOH advertisements are used in conjunction with digital advertising, they have a favourable impact. Consumers are 48 percent more likely to interact with digital advertising, according to one research. Consumers are 48 percent more likely to interact with a digital ad after first seeing an OOH ad, according to one research.
Getica OOH is one of Romania's largest producers of outdoor advertising spaces and services, with a countrywide network of around 2,000 structures like as billboards, backlits, pillars, and city lights placed in high-traffic areas around the country.
Getica OOH is proud of its dedication to provide high-quality services to its clients. They pioneered the one-legged configuration for large format billboards on national highways and important city access routes in Romania. They've built the most comprehensive national network of backlit, billboard 6×3 and citylight formats for urban coverage, and they're still coming up with new ideas to deliver unique solutions fitted for every request.
Solution in detail
As our client chose RPA technology- in 2020 – for the automation of the internal invoicing flow (automated generation of invoices and the automatic sending of e-mails to customers), the invoicing work was taken over entirely by a robot, streamlining staff activity in 2021. The finance department has returned to Encorsa to develop applications that would optimize the department's activity both in terms of providing alerts to customers with debt and automating the processing and payment of invoices received from suppliers.
Therefore, they currently own a module with 3 applications:
1.The client-financial module – customers and invoices are automatically imported and updated every day at a specified time, and invoices that have been overdue for more than 1/5/10/30/50 days are immediately alerted. In addition, one a year, each consumer is notified automatically to validate the accounting balance. The program offers the end user with a variety of information at any time, including the total number of clients, invoices that are paid, unpaid, or at the receiver, and notifications that have been delivered, are in the process of approval, or have been cancelled etc. At the touch of a button, all of these reports may be exported to Excel by a simple call-to-action button.
Fig 2. Reports
The dashboard gives the user an immediate overview by displaying information about alert customers, a statistical analysis of invoice statuses, and a visual representation of the current user's responsibilities. They can also manually introduce a new customer at request to alert if necessary.
Fig3. Financial-clients module
2.The invoice-financial module – this application is aiming to keep track of the company's existing databases. The inputs from these sites are imported either by reading files of various formats or by a robot based on a user's request for a selection of payments. Following the import, each payment will create a bank file that can be used in online banking platforms as well as an accounting note that can be used in the accounting software. These can be seen and/or transferred to ERP/online banking on a per-payment basis or "in bulk" from a report of accounting notes and bank files.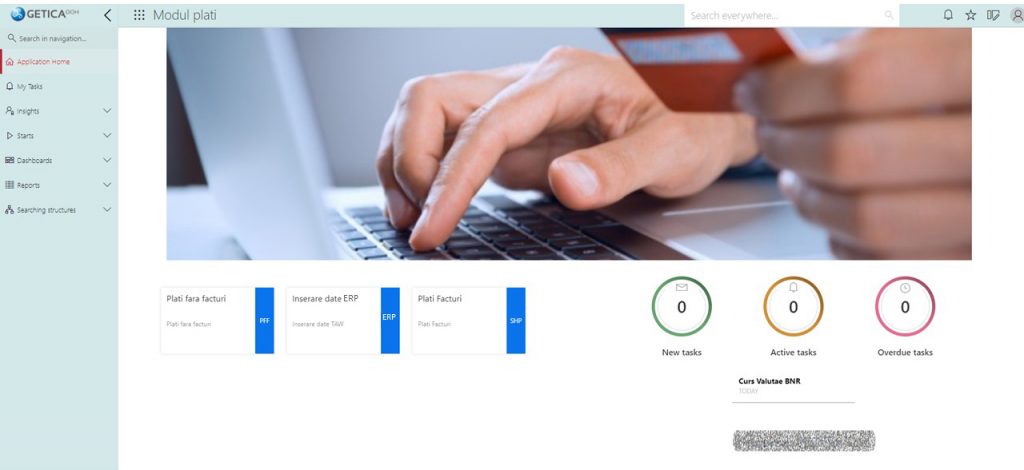 Fig 4. Payments module
3.Accounting notes generator module – with this application, we also employed a robot to import a selection of invoices from various providers at the user's request. Each invoice is automatically creating an accounting note that can be sent to the company's ERP system after it is loaded.
Fig5. Generating accounting notes module
After the implementation, the activity of the staff in the financial-accounting department benefited from a significant improvement, the 3 applications relieving the staff of at least 2 or 3 hours of manual work per day. Moreover, the reports were of real use, providing – in real time – a clear and easily accessible overview. In addition, the notifications sent reduced the number of overdue customers.
Conclusions
Almost every repetitive task that an individual does may be delegated to a robot. It can imitate any operation, including mouse clicks, keystrokes, and application window or web navigation. Once the phases are set, they will be executed automatically, without human involvement or error, and the activity will be reported inside the activity management platform.
The finance staff may be helped to cut off a lot of time and worry by automating the simplest tasks. Not only that, but it will aid in the accuracy and consistency of financial data.
As a result, they'll have more time to study and comprehend financial data and trends, as well as interact with other departments to improve efficiency and helps the company expand.
GETICA OOH recognized that the future belonged to digital, standardized institutions with a strong procedural foundation and a focus on innovation.
Investing in software to automate time-consuming financial operations is a modest price to pay for the company, especially considering the rewards.
Share